This is my fourth time visiting in Eilat this year, and I'm so happy to say , that it is always a pleasure to be there. This is defiantly the best of them all. I went out with all of my friends , met some new ones , got embracing and funny accidents and really just had the best time. It was super how , I swear , I think earth got crazy.
There are so many people that tells me that I don't look like my age (13) , and I believe them, cause I know its kind of true.. But I never thought It can go this far for some one who is 17 years old ,will ask me out. I was so embarrassed that I did such an ugly face , like the one that says , leave me your ugly , and he missed understood it. Actually, he was really good looking!
Few things I learned in eilat:
1. Don't take too many clothes to eilat
2. Don't put too much sunscreen- you will be whiter then you are
3. Don't put sneakers when its 48 degrees outside.
4. Ice cream is always my favorite treat
Walking with my awesome bag. Hat- wow, total look- berniki: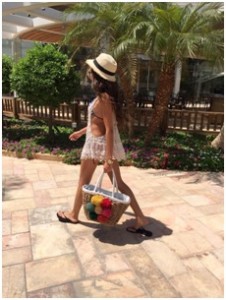 sending you kisses . swimsuit & roap – hand made.